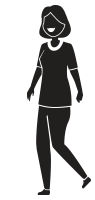 30 Minute Estimated Round-Trip Walk
Allentown painted its bars, pubs, stores and restaurants with colorful art long before the rest of the city decided it was cool. The murals along Allen Street seemingly blend in with the creative, artistic fabric of Buffalo's longtime bohemian neighborhood, from its rainbow colored sidewalks to the many galleries found on the surrounding streets.
I start my walk near Days Park by a mural of philosopher Frederic Nietzsche, who declares, "Without Music, Life Would be a Mistake." This mural has for years graced the side of one of Buffalo's legendary music bars, Nietzsche's, which features a Celtic music jam I love to attend every Saturday afternoon. As I continue on Allen Street, I notice eccentric and offbeat colors and collages on the side of nearly every building.
I stumble upon the maritime-themed "Voyage" mural by Chuck Tingley as I approach Elmwood Avenue, the busy intersection made magical by the soap bubbles filling the air – the work of Buffalo's legendary Bubble Man who uses his nearby apartment to make living public art.
As I walk, a mural hiding in plain sight catches the corner of my eye: the striking "Buffalo Buildings" at 172 Allen St. features an incredibly detailed illustration of downtown's architectural marvels modeled from an architect's pencil sketch created more than 30 years ago.
I'm tempted to take a seat at the bar of Gabriel's Gate and grab some of Buffalo's best wings and a Labatt, but I decide to press on and cross Delaware Avenue. Allentown has long been a hub for Buffalo's LGBT community, and the new "Stonewall Nation: WNY LGBT History Mural" on Q Bar at 44 Allen St. features more than two dozen portraits of local and national LGBT activists, a fitting exclamation point on this neighborhood's welcoming legacy.
As I reach my last stop at the intersection of Main Street, the new University at Buffalo Medical School towers over me. Here, the winding, vividly-colored "Gut Flora" sculpture by local artist Shasti O'Leary-Soudant greets commuters at the Allen Street Metrorail stop. On my return walk back, I stop to feast on those Gabriel's Gate wings. Mission accomplished.